Culinary Reelects Las Vegas Casino Union Executives as Organization Begins 88th Year
The Culinary Union in Las Vegas has reelected its three top officials as the hospitality trade ground embarks on its 88th year of "fighting and winning for working families in Nevada."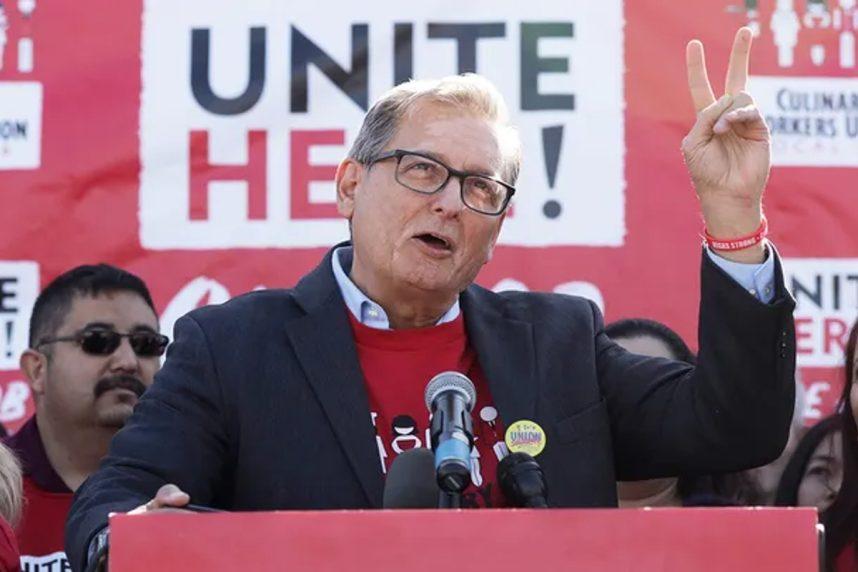 An affiliate of Unite Here, a nationwide labor organization that represents employees in the hotel, food service, laundry, warehouse, and casino gaming industries, the Culinary Union counts about 60K members in Las Vegas and Reno. Culinary represents nongaming employees at most Strip casino resorts.
Running unopposed, union officials said Ted Pappageorge, secretary-treasurer for the Culinary Union, President Diana Valles, and Vice President Leain Vashon, were all successfully reelected to their posts. The Culinary Union's leadership consists of three elected officers, 10 executive board members, three trustees, and a chaplain.
Pappageorge, Valles, and Vashon's reelections are for three-year terms. June 1, 2023, marked the start of the union's 88th year in operation.
Culinary Union members in Nevada work in a variety of roles, including as housekeepers, waiters, porters, bellmen, cooks, bartenders, and kitchen workers.
Pappageorge Backstory
Pappageorge has been a Culinary Union member for 40 years. His career began in 1982 working as a busboy at the Sands Hotel and Casino, which is where The Venetian stands today. The union's top leader says he's "honored" to lead the organization as it begins its 88th year.
I've seen what workers can accomplish together and how Nevada has changed because our union has been militant about not allowing working families to be left behind," Pappageorge said in a release. "Working families in Nevada are resilient because of the strength and sacrifices made by generations of Culinary Union members who have come before us. In 2023, we are fighting for the best contract ever by making sure workers are not left behind as companies make record profits."
Pappageorge became active in the union after he became a single father of two in 1990. He first became a committee member and is credited by the union for playing a key role as a picket captain during the nine-month strike of the Horseshoe that same year.
After the Horseshoe strike was resolved, Pappageorge joined the Culinary Union as a staffer in 1991. He's spent the past 30 years "organizing nonunion and union workers fighting for respect and dignity at work."
Immediate Concerns
MLB's Oakland A's are hoping to follow the NFL's Raiders in relocating their professional sports franchise to Las Vegas. The A's and Bally's have an agreement in place that would, pending the securing of funding assistance from Nevada and Clark County, result in a new ballpark where the Tropicana currently stands.
The Culinary Union last month reached a tentative pact with the A's that would allow stadium workers to organize.
The union also remains focused on Station Casinos and Red Rock Resorts, the locals-focused gaming giant controlled by Frank III and Lorenzo Fertitta. Station and RRR properties remain union-free despite years of Culinary efforts to organize the casinos.
Culinary was dealt a loss recently by Nevada Gov. Joe Lombardo (R) and the state Legislature after lawmakers repealed a pandemic provision signed in 2020 by then-Gov. Steve Sisolak (D) requiring that hotel rooms be cleaned daily. Casinos have argued that many guests don't want daily housekeeping, while the union argued the resorts are simply trying to reduce their overhead by trimming their housekeeping staff.
The post Culinary Reelects Las Vegas Casino Union Executives as Organization Begins 88th Year appeared first on Casino.org.