F1 to Offer Cheaper Las Vegas Grand Prix Tix with One Big Catch
Missed out on your chance to see the Formula 1 Las Vegas Grand Prix on November 18? Formula 1 is about to give about 30K fans a chance to purchase a new class of tickets. And they'll be the cheapest seats on sale yet.
There's just one catch…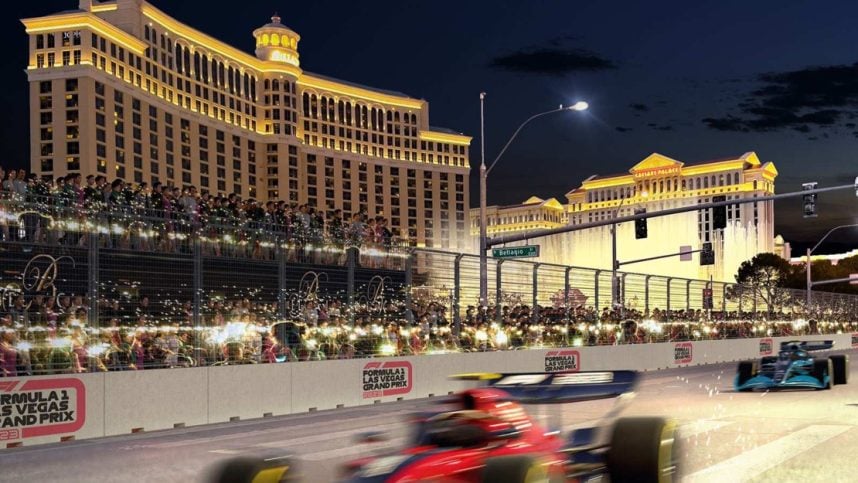 These new tickets won't let you see the Formula 1 Las Vegas Grand Prix. That's because the only view of the big race they will afford is on TV screens. The tickets are reportedly for a "fan festival" held on the former site of the New Frontier, 38 barren acres just north of the Fashion Show mall that Wynn Resorts purchased for $336M in 2017.
"Although not on-track, we do expect tickets to be made available later this year for a one-of-a kind watch party on the iconic Las Vegas Strip," Las Vegas Grand Prix organizers said in a statement to racefans.net. "This event will allow fans to enjoy the excitement of race weekend, together with live music and entertainment acts from celebrated artists, at a cost-effective price point."
So if you want all the traffic congestion, engine noise, and burning rubber smells of a Formula 1 race with none of the pesky view of it, get excited.
The price for its fan festival tickets is not yet known. However, according to the Las Vegas Review-Journal, they will cost less than the $500 standing-room-only tickets that F1 quickly sold out of after offering 1,800 of them — situated in the MSG Sphere Zone between Turns 5 and 9 — last November.
As expected, the interwebs exploded when word of this new "fan experience" got out.
"I can not see the racetrack from my house for free," commented Twitter user @MirrorMan_jls.
Reddit user AlienSomewhere posted his own offer: "I have a few of those tickets available from my backyard. Granted, I'm thousands of miles away from Las Vegas, but you'll get the same experience."
Free Peeks from Strip Sidewalk
Think you'll be able to outsmart a team of more than 100 logistics professionals thinking about nothing but how to generate revenue from track views for the past year?
Good luck with that.
Though the public sidewalks lining the Las Vegas Strip will be open to pedestrians during the race, as Las Vegas Convention and Visitors Authority president and CEO Steve Hill told the R-J last year, "the barriers are high enough that it's pretty hard to see the race, frankly, if you just walk up to the edge."
As of yet, no further information is available about F1 Las Vegas Grand Prix fan festival tickets — assuming anyone wanted any.
The post F1 to Offer Cheaper Las Vegas Grand Prix Tix with One Big Catch appeared first on Casino.org.