Las Vegas Crime Round Up: Shootings on Las Vegas Strip
A man was arrested and hospitalized after last Friday's shooting at a condominium complex, called Turnberry Towers, near the north end of the Las Vegas Strip, according to Las Vegas TV station KLAS.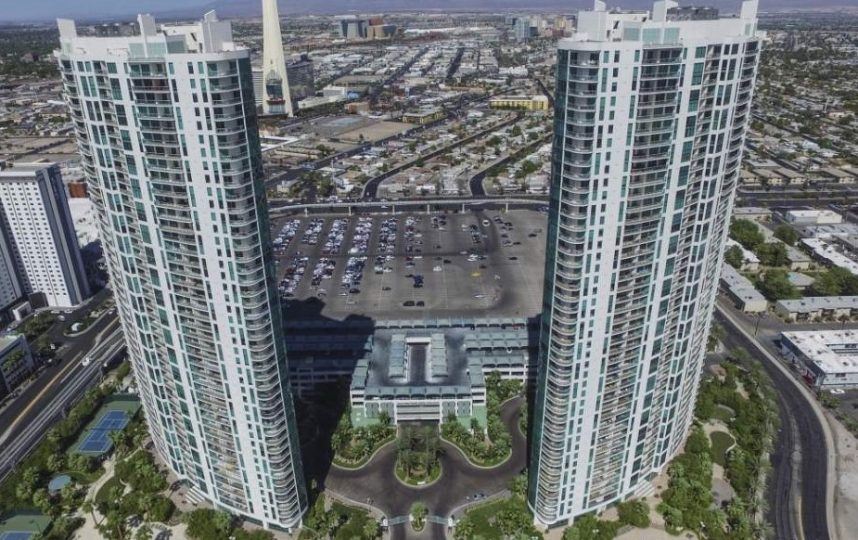 The suspect, identified as Andrew Warrender, 32, was shot in the thighs and abdomen by a security officer, police said.
The suspect's AR-15 style rifle had jammed after he aimed it at several people and he later fired a shot, KLAS reported.
Warrender fell to the ground after he was wounded. He was hospitalized with several injuries. His current condition was not immediately available.
He was charged with two counts of assault with a deadly weapon, discharging a firearm in an occupied structure, and attempted murder.
The shooting appeared to be "an isolated incident," according to Las Vegas Metropolitan Police Department (LVMPD) Lt. Noe Esparza.
Murder Suspect Arrested Near Vegas Casino
A suspect was apprehended recently outside of the Silver Nugget Casino on a murder charge stemming from a deadly shooting that took place last October.
Marvin Lamar Smith, also known as "Gangster," was arrested on Las Vegas Boulevard North. On June 15, he was booked for open murder with a deadly weapon, assault with a deadly weapon, robbery with a deadly weapon, and two counts of drug possession.
He remains in custody at the Clark County Detention Center and is scheduled to appear in local court next month.
The victim was identified as Dion "Juice" Southern. He was shot in the face by a single bullet from a .40 caliber handgun on October 3, KLAS reported.
Earlier, Smith had aimed a firearm at Truby McDowell, according to police. She was Southern's girlfriend, police added.
McDowell also had allegedly stolen Smith's stash of suspected methamphetamine (meth). He had tried to flirt with her, but she told him that Southern was her boyfriend, police said.
The incident led Smith and his brother, Richard Allen Smith, also known as "Bounce," to get into a dispute with Southern.
Marvin Smith then allegedly shot Southern. Southern fell to the ground. He died a short time later.
The Smith brothers allegedly fled from the crime scene on bicycles.
Alleged Kidnapper Identified After Police-Involved Shooting
The man who allegedly kidnapped a woman and two men last Friday has been identified and arrested.
Jeffrey Hair, 37, was charged with three counts of first-degree kidnapping with a deadly weapon, LVMPD police revealed on Monday. Other charges include evading, assault with a deadly weapon, and resisting a police officer with a deadly weapon.
He was wounded during a standoff with police that took place on East Charleston Boulevard near Lamb Boulevard in east Las Vegas.
The incident began when a kidnapping victim texted Henderson, Nev. police to report she had been kidnapped by Hair, authorities said.
Hair drove the victims to Boulder City. Boulder City cops soon spotted the victim and Hair in a vehicle near US-95 and Black Hills Drive.
Officers began to chase the vehicle. LVMPD then got involved in the chase.
The vehicle was spotted at Owens Avenue and Hollywood Boulevard in Las Vegas. The vehicle was forcibly stopped by officers.
Hair Threatened to Shoot
Two victims fled from the vehicle. Hair remained in the vehicle and threatened to shoot the third hostage who was still in the car. Hair had a 9mm handgun with him.
LVMPD Officer Jonathan Collingwood, 40, shot his rifle and wounded Hair. Hair was in critical condition at University Medical Center earlier this week.
One victim suffered glass fragments in his eye and was seen by doctors at the hospital. The woman also was treated at the hospital for unspecified reasons.
It was later found out the kidnapped woman was dating both Hair and a second man at the same time, police said.
Collingwood was put on administrative leave pending review of the shooting. That is standard procedure in an officer-involved shooting.
The post Las Vegas Crime Round Up: Shootings on Las Vegas Strip appeared first on Casino.org.