New York Mets Send Slugger Pete Alonso to Rare Stint on IL
New York Mets slugger and first baseman Pete Alonso sustained a left wrist injury and is expected to miss the next three or four weeks.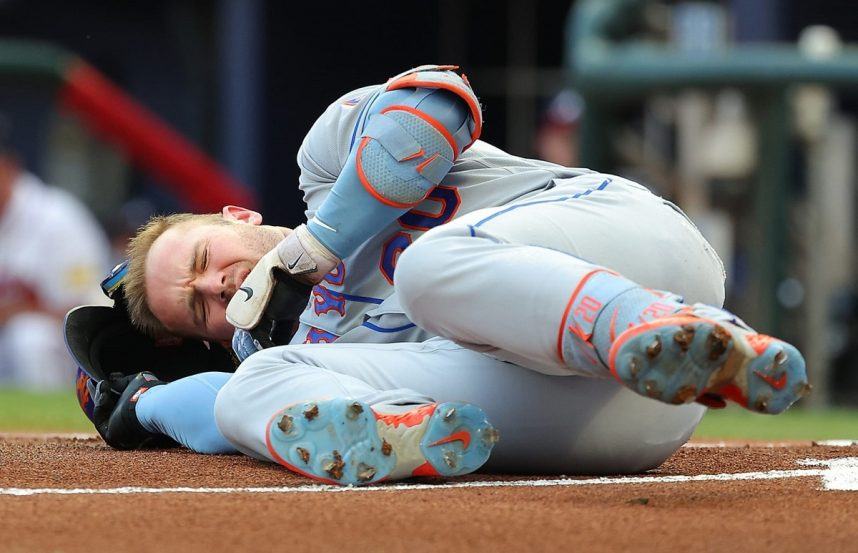 Atlanta Braves pitcher Charlie Morton hit Alonso with a 97 mph fastball, which ricocheted off Alonso's left wrist. Morton stated that the pitch got away from him and he never had any intention to hit Alonso.
That's part of hitting in the Major Leagues," said Mets manager Buck Showalter.
Initial X-rays were negative, which was a relief to many fans. Alonso underwent an MRI and other imaging, and consulted with other experts to determine the severity of his wrist injury.
The Mets ultimately diagnosed Alonso with a sprained wrist and bone bruise. They sent him to the IL with an anticipated return in three to four weeks. The Mets hope to have him back before the All-Star Game, which is scheduled for July 11.
The Mets lost their best player and RBI machine, who just happened to lead the majors in home runs with 22. The Mets are in a tough spot with a 31-35 record, and are currently four games under .500. Losing Alonso to a serious injury could ultimately derail their entire season.
The Mets won 101 games last season but were upset by the San Diego Padres in the NL wild-card series.
Alonso on Pace for 60 Home Runs
The Mets lost one of their most durable players. In an era of load management and teams taking a conservative approach by resting stars with the slightest of injuries, Alonso was a throwback. Prior to his wrist injury, Alonso appeared in almost 97.5% of games played by the Mets since 2019.
In his rookie season, Alonso appeared in 161 games and bashed a career-high 53 home runs in 2019. Even during the pandemic-shortened season in his second year as a pro, Alonso appeared in 95% of games in 2020.
Alonso logged one stint on the IL back in 2021 when he spent 10 days resting a sprained right wrist. He hit 27 home runs in 152 games that season.
Last season, Alonso missed only two games. He appeared in 160 games and hit 40 home runs.
Alonso was slashing .231/.326/.546 this season before his injury. He smacked 22 home runs with 49 RBI. He was on pace to set a career mark in long balls while chasing 60 home runs.
It's impactful," added Showalter. "But what are we going to do? We have the people to withstand it."
Mark Canha and Mark Vientos will platoon at first base until Alonso returns. The Mets also called up utility infielder Luis Guillorme from Triple-A Syracuse to fill in the empty roster spot.
Canha, a right-handed hitting veteran, spent most of his career with the Oakland A's. Cahha is currently hitting .246 with 5 home runs and 21 RBI. He has a career slashline of .248/.347/.424.
Vientos is a righty-hitting first baseman who only appeared in 15 games this season. He's hitting .167 with one home run and 5 RBI. He doesn't have much of a sample size, but his career slashline is .167/.233/.256.
Betting the Mets with an Injured Alonso
Before spring training began, the Mets were a popular pick at DraftKings to win the 2023 World Series at +750 odds. In late February, the Houston Astros were the consensus favorite to win back-to-back championships at +600 odds. The Mets and New York Yankees were second co-favorites at +750 odds.
The Mets ended spring training with bad news. Pitcher Justin Verlander missed the start of the season with a muscle strain. In mid-April, ace Max Scherzer was suspended for 10 games for using an illegal substance.
At the start of May, the Mets saw a slight dip on the futures board to +1000 odds. After a slow start, the Mets saw their World Series odd slip to +1700 by the end of May.
Alonso's injury had a direct impact on the futures board, and the Mets are currently +2500 odds to win the World Series. The Mets are now +1500 odds to win the National League pennant as the sixth-highest team on the board.
The Atlanta Braves are a huge favorite to win the NL East at -650 odds. They're ahead of the Miami Marlins (+1200), Philadelphia Phillies (+1200), Mets (+1400), and Washington Nationals (+50000).
The Mets are currently in fourth place in the division and trail the first-place Braves by 9.5 games. Despite a 31-35 record, the Mets are only three games back in a tight NL wild-card race.
The Mets are currently a betting favorite to miss the postseason. DraftKings posted a prop bet with the Mets making the playoffs at +125 odds. The Mets are -145 odds to miss the playoffs.
The post New York Mets Send Slugger Pete Alonso to Rare Stint on IL appeared first on Casino.org.