Pair Accused of Arson at 3 Las Vegas Strip Casinos
Two people face arson charges for allegedly setting fires at three Las Vegas Strip resorts last week, according to documents uncovered by KLAS-TV. Amber Crow, 40, and Daniel Rodriguez, 21, were arrested on Saturday morning and remain in custody, according to the report.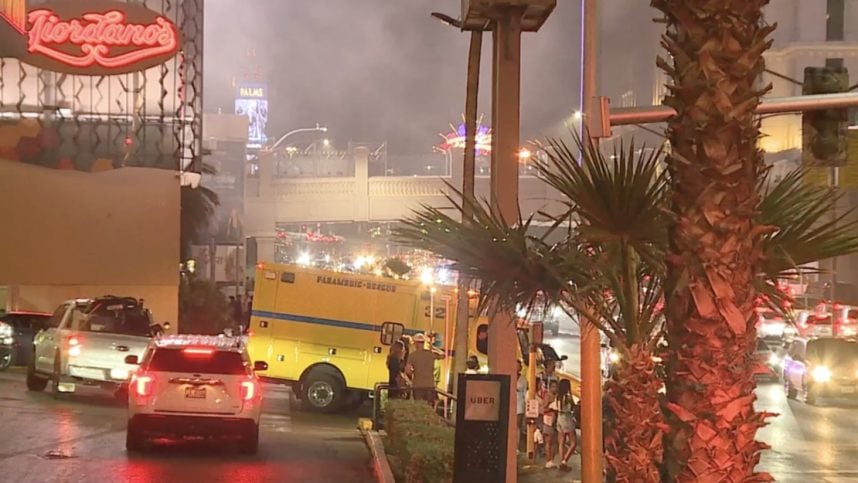 The couple — who also face burglary charges — are accused of starting the two-alarm fire that sent 11 engines, three trucks, one heavy rescue, five rescues, four chief officers, and two investigators screaming to the Indigo Tower at Horseshoe Las Vegas at 8:50 p.m. Friday, April 28. Police say security footage shows a man and woman entering the casino matching their descriptions.
When firefighters arrived, according to a press release from the Clark County Fire Department, they found a small fire behind a vending machine on the 19th floor, apparently set with a lit diaper. They credited the sprinklers the fire activated with keeping it contained. Some victims sought medical attention at the scene, but none requested transportation to a hospital.
Earlier that day, at 7 a.m., police said, the same couple set two fires inside the Flamingo – one in the lobby, the other in front of an upper-floor hotel room. It was unclear how the couple made it into areas restricted to hotel guests.
The couple allegedly started their arson spree with a fire on Wednesday near a bus stop at Caesars Palace, police said.
There were no reports of firefighter injuries at any fire.
Liar, Liar…
Police arrested Crow and Rodriguez at the Caesars Palace valet at 2:30 a.m. Saturday, they said. Each blamed the other for setting the fires.
"Daniel indicated Amber usually set fires after they argued, but she did not have any grievances or expouse [sic] any extremist ideologies," KLAS-TV quoted the arrest report.
The fire at the Horseshoe was not only the biggest, it caused the most anxiety. The Indigo Tower was the site of the deadliest fire in Nevada history, when it was part of the original MGM Grand Hotel. Eighty-five people were killed there on November 12, 1980, after an electrical fire started in a restaurant on the casino's ground floor and spread to what was then its only tower. The Indigo Tower became part of Bally's in 1986, and Horseshoe in 2022.
The post Pair Accused of Arson at 3 Las Vegas Strip Casinos appeared first on Casino.org.