Sportsbetting App Fliff Faces $5 Million Class Action Lawsuit
A California man filed a proposed class action accusing Fliff Inc. of illegal sports betting in the Golden State. The complaint claims the "free-to-play" Fliff app violates the Wire Act, the California Unfair Competition Law, and anti-bookmaking laws.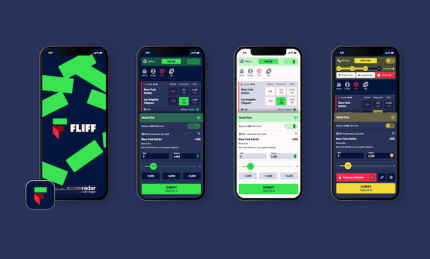 The plaintiff, Bishoy Neshim, claims he lost over $7,000 using the app. He seeks more than $5 million in damages for himself and others who may have been affected.
The complaint filed with the U.S. District Court for the Central District of California characterizes Fliff's free-to-play business model as a "lure" to attract the consumer with the free option ("Fliff Coins") and then "switch" them to playing with real money ("Fliff Cash"), which can be withdrawn and wired directly to user's bank accounts. "That's the epitome of an online sports book," the complaint says.
The June 6 filing also seeks an injunction to stop Fliff from offering its contests across state lines, an alleged violation of the federal Wire Act.
Fliff is a social sportsbook that allows users to play with virtual coins. People get online and make picks on favorite players and teams without real cash. It does offer the chance to redeem cash prizes and operates using the sweepstakes model. The app is available in 49 states.
Voters in California voted against legalized sports betting in November 2022.
Not Just in California, Not Just Fliff
Fliff Co-Founder Matt Ricci has not yet responded to Casino.org's attempts for comment but has previously been quoted as saying his customers are not necessarily sports bettors and enjoy games played for fun.
But in addition to California, Fliff is also under scrutiny in Ohio and other free-to-play apps resembling online sportsbooks.
In May, the Ohio Casino Control Commission also listed Lucra Sports, Prediction Strike, TeamStake, and Dynasty as under investigation. Fliff has stopped taking money in Ohio as regulators look into the matter. Sports betting is legal in Ohio and more than half of US States.
Much of the 18-page complaint against Fliff in California revolves around the similarities between Fliff and real-money sportsbooks. Hence the Wire Act argument. Because of that, it remains to be seen if this sets a precedent for sweepstakes model casinos though the filing could encourage other class action.
What's Next
The plaintiff is seeking a jury trial, but court watchers say don't bet on that. Companies facing a legal challenge to their business model tend to settle if their cases are not dismissed.
Fliff has until June 28 to respond to the complaint.
Dennis Stewart, a former trial attorney with the U.S. Department of Justice Antitrust Division, represents Bishoy Nessim Bishoy.
The post Sportsbetting App Fliff Faces $5 Million Class Action Lawsuit appeared first on Casino.org.