Station Casinos Brings Down Fiesta Rancho in North Las Vegas
Demolition of the Fiesta Rancho in North Las Vegas began this week, with most of the resort's five-story hotel tower reduced to rubble. Owner Station Casinos announced last July that the Fiesta Rancho would be demolished along with its other North Las Vegas property, Texas Station, which was leveled in February.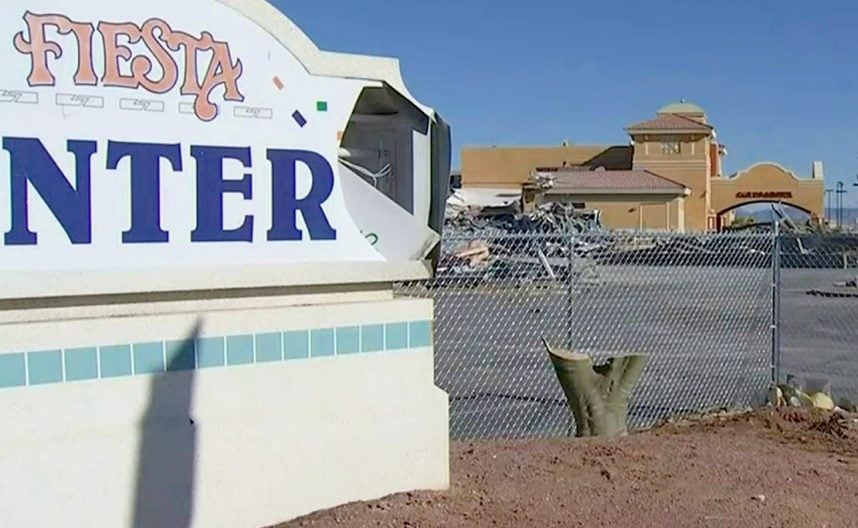 Both casinos had been closed since the COVID-19 pandemic began, as was Station's Fiesta Henderson casino. Despite the popularity of the casinos, Station said, their customers switched over to other casinos owned by the company. So they opted to sell the land to buyers who, as part of the deal, promised not to open competing casinos on the sites.
The Fiesta Henderson, which was also demolished in February, was purchased for $32M by the city of Henderson, which intends to use its 35 acres for an indoor youth sports facility. No buyer has been announced for the Fiesta Rancho or Texas Station sites.
"These properties have been an important part of our business over many years, so it is not without sadness that we announce these permanent closures," Station Casinos president Scott Kreeger said in a statement last July. "We would like to recognize and thank our former team members who worked at these properties for making them a place where our guests always felt welcome. We are pleased that approximately one-third of the team members from each of these three properties are already working at another Station Casinos property, and we hope that number will grow. We also want to thank our loyal guests for their support."
The ice rink at Fiesta Rancho will remain open, Red Rock Resorts said.
Doubling Up
Red Rock plans to double its Southern Nevada presence by 2030. The locals-focused casino giant opened a new a new Wildfire casino in downtown Las Vegas in February. And it pumped $750M into its Durango Casino & Resort, a new 73K square-foot casino, sportsbook, and 200-room hotel on Durango Drive in Southwest Las Vegas that's on target to open later this year.
Red Rock also recently closed on the purchase of nearly 67 acres in North Las Vegas for $55 million, after it received approvals for a new 75,700 square-foot casino and 600-room hotel on the site. (That casino is likely to be much more upscale than the Fiesta Rancho or Texas Station.) And, in July, it purchased 126 acres south of the Strip for $172 million — boosting its unused land holdings in the Las Vegas Valley to nearly 430 acres.
Red Rock's land portfolio shrunk by 21 acres when the company sold excess land surrounding Durango to a housing developer last December for $23.9M. Its total strategic landholdings now total about 522 acres, about 120 of which are under contract or being actively shopped for divesting.
In addition to the Red Rock Resort and Green Valley Ranch, Red Rock currently operates multiple gaming properties under the Station brand throughout the Las Vegas area. The company also runs 10 Wildfire casinos, including seven in Henderson.
The post Station Casinos Brings Down Fiesta Rancho in North Las Vegas appeared first on Casino.org.