Strat Las Vegas Parking Fee Pushback
The Strat's decision to charge for self-parking has sparked social-media pushback. Self-parking has been mostly free at the resort formerly known as the Stratosphere since it opened in 1996. Prior to April 3, the Strat charged for about 10% of its best spaces. Now it charges for all of them — $6 for up to four hours ($8 Friday through Sunday), with a $12 maximum ($15 on weekends).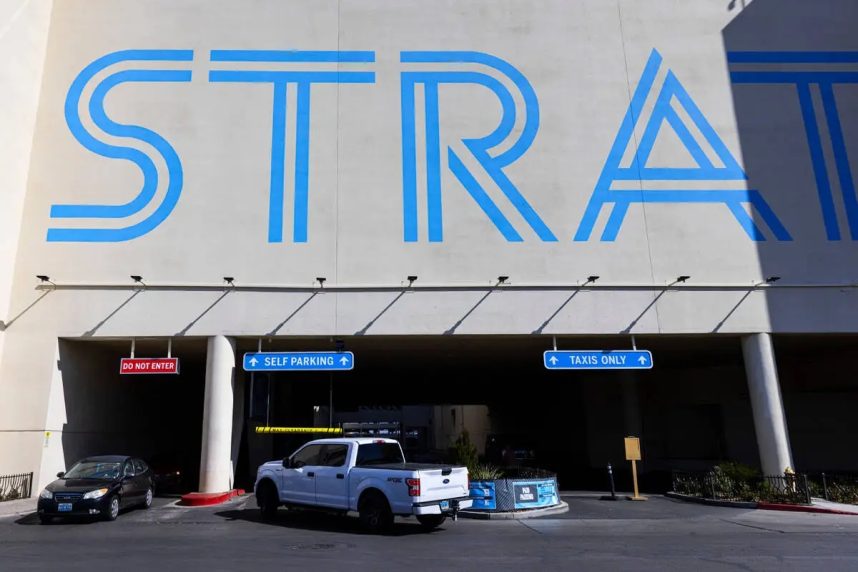 "@stratvegas So you jumped on the 'let's squeeze more money out of patrons' by charging for parking. I will not be patronizing your Casino anymore..good luck!" tweeted user @RamsPhilsGSW on April 8.
You can unfortunately get away with it if you're a mid-strip casino, but this is the equivalent of Jerry's Nugget charging for parking. It's just a disincentive for people to visit," tweeted @kevinnagle on April 15.
"No free parking for hotel guests?!? Jesus … that's pretty raw!" tweeted @MagicTraks on April 16.
There were also complaints about the new system's requirement to scan a QR code to open the gates and a credit card fee charged on top of the parking fee. The travelscholar.com blog even headlined one of its entries: "Every Time Someone Pays for Parking at The Strat, A Kitten Dies."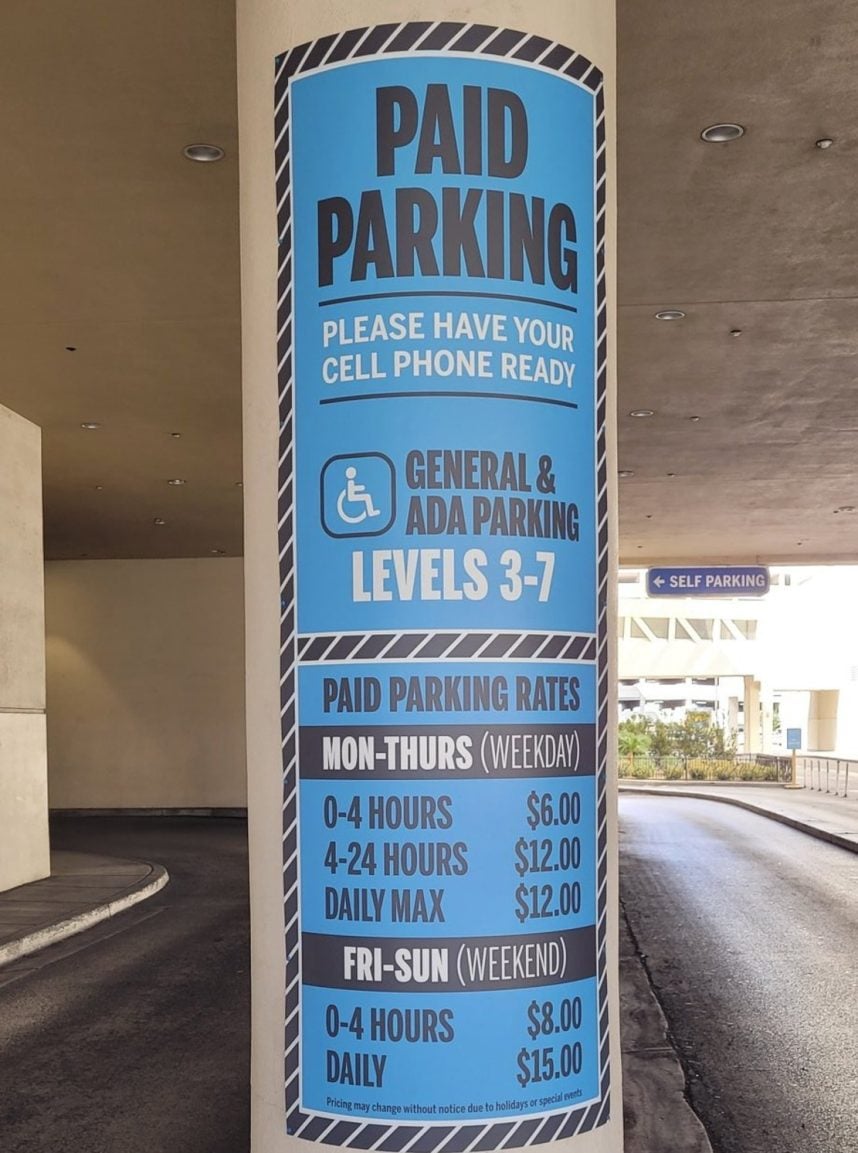 North Strip Domino Effect?
While resorts on the Las Vegas Strip's more popular southern end have charged for self-parking since 2016, resorts on the northern end have kept it free in order to entice more business.
There continues to be no charge for self-parking at the Sahara, TI, Circus Circus, Casino Royale, Venetian, Palazzo, or Wynn and Encore. The Wynn and Encore did begin charging for self-parking in August 2017, but reversed that decision in May 2019.
Self-parking at Resorts World, free when the resort opened in June 2021, ended in January 2023 for all but its rewards club members.
Though the Strat isn't technically on the Strip, it's catty-corner from the Sahara, which only charges for self-parking during concerts at the Las Vegas Festival Grounds across the street.
While the Sahara has no plans to change its policy, parking fees tend to have a domino effect on adjacent properties that don't charge them. That's because free garages fill with customers of adjacent resorts that charge. This pressures resorts with free parking to make the switch to limit their own garages to their own guests.
MGM Started It
One of the reasons it took a company as large as MGM Resorts to get a trend like paid parking rolling is that it also owns most of the resorts next to its resorts. As the largest operator of Strip properties, MGM owns 11 venues.
MGM justified its decision by tying it to a $90M plan to enhance its parking areas and build new ones. But the truth is, this old-as-Vegas freebie was once subsidized by gambling revenue, which comprised 75% of an average casino's earnings. For the last 20 years or so, gambling has only contributed about 25%.
A swift and intense reaction from MGM's customers followed. Several protest Facebook groups and a Change.org petition sprung up. Thousands of people claiming to be regular customers vowed never again to step foot in an MGM casino until the company reversed the policy.
A year later, however, MGM was still charging for self-parking when Caesars Entertainment, the second biggest Strip operator, with nine resorts, joined the party. This sealed the practice's fate, at least the South Strip, where the Tropicana is the only property that still offers some free parking.
Eventually, the furor died down and parking became just another anticipated Las Vegas charge that visitors complained about but begrudgingly paid.
Most Strip resorts allow Nevada locals to park for free for three hours, though as of today, April 17, the Mirage, which is now owned by Hard Rock International, no longer limits locals to three hours.
The post Strat Las Vegas Parking Fee Pushback appeared first on Casino.org.