Temporary Casino Planned for Harbor Park Parking Lot in Norfolk, Va.
Norfolk, Va.'s minor league baseball team, the Tides, could soon be temporarily sharing the parking lot of their Harbor Park stadium with a commercial casino.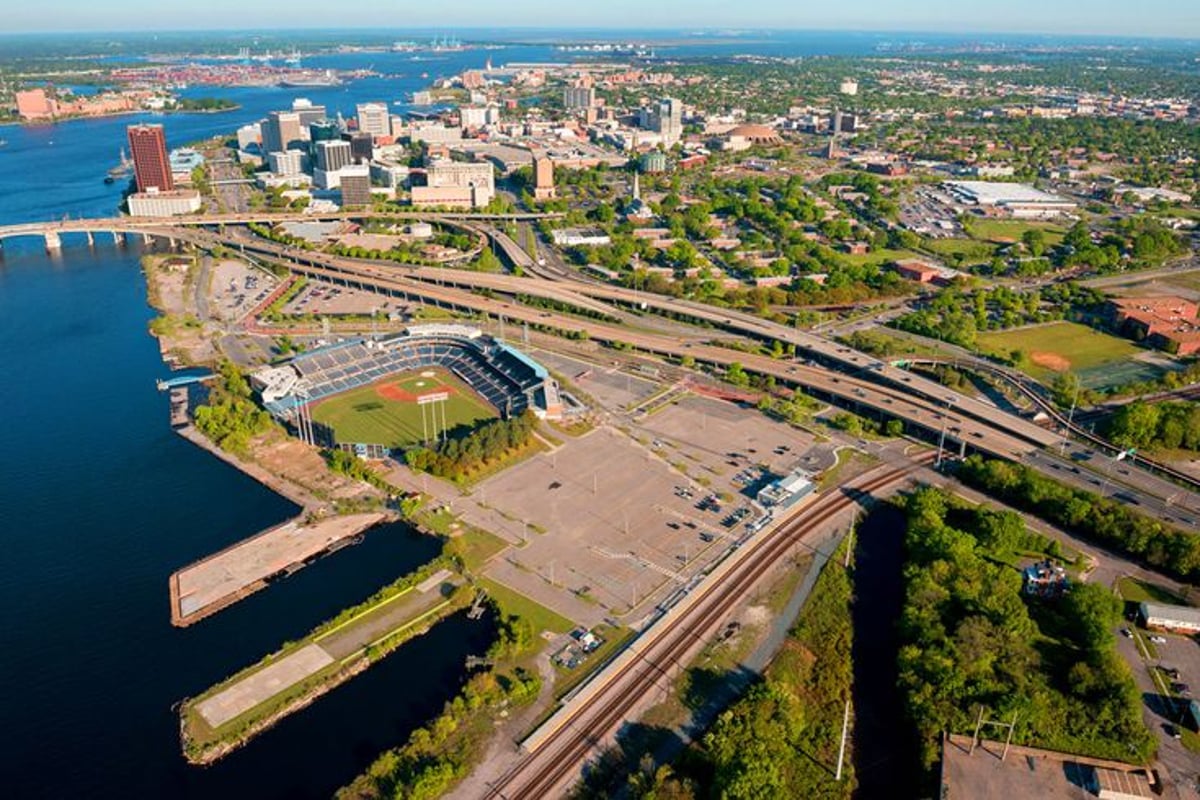 Owned by the City of Norfolk and opened in 1993, Harbor Park lies downtown near the banks of the Elizabeth River. The Tides, a Triple-A affiliate of the Baltimore Orioles, have played in the facility since its opening, back when they were affiliated with the New York Mets.
A $500 million commercial casino called HeadWaters Resort & Casino is in the works for the 13.5 acres of paved land adjacent to Harbor Park. The project is from the Pamunkey Indian Tribe and billionaire gaming industry veteran Jon Yarbrough.
While HeadWaters isn't expected to open until 2024, Virginia's gaming law allows casino developers to open a temporary gaming space as their permanent properties are built.
Parking Lot Casino
HeadWaters officials mulled several options for a temporary casino, including inside Harbor Park in what was formerly a restaurant and boxing facility. But the park's actual address — 150 Park Avenue — caused hesitation among the tribe and Yarbrough on legal grounds.
Virginia's casino law allows a temporary casino to open in Norfolk, but only at the address where the permanent casino is being built. HeadWaters is under construction in the large parking lot at 200 Park Avenue.
To skirt a potential legal issue, the tribe said this week that its temporary casino, if approved, will open on the parking lot's northern side closest to Park Avenue/Interstate 264. HeadWaters will stand nearer the Elizabeth River waterfront.
The temporary casino blueprint suggests a 45,000-square-foot, one-story, 35-foot-tall structure. The facility would replace about 300 parking spaces that serve Harbor Park and the nearby Amtrak train station.
The provisional casino is to feature several hundred slot machines, plus a restaurant and bar. The developers have not yet said if table games and/or sports betting will be included.
Once the Norfolk City Council approves the venue, the tribe says it will immediately move forward with constructing the temporary gaming space. The pop-up casino could be ready as early as March 2023.
Immediate Job, Tax Creation
Virginia's gaming law permits approved casino projects to apply for temporary casino privileges to expedite the generation of new jobs and local tax revenue. The state's casino bill was designed to help financially distressed cities to provide an economic spark to the regions.
In Bristol, one of the five cities that qualified under the legislation to consider a casino, Hard Rock opened its temporary casino in June. Hard Rock is constructing a $400 million casino resort at the former Bristol Mall.
Virginia's gaming law levies a gradual tax on commercial casino revenue. Casinos will share 18% of their gross gaming revenue with the state, up to $200 million annually. The rate will increase to 23% on income ranging from $200 million to $400 million, and 30% on revenue in excess of $400 million.
Sportsbooks share 15% of their gross revenue with the state. They also pay a one-time $300K licensing fee and a $200K renewal every three years.
The post Temporary Casino Planned for Harbor Park Parking Lot in Norfolk, Va. appeared first on Casino.org.