The Buildings Elvis Presley Left in Las Vegas
Elvis Presley didn't put Las Vegas on the map, but he did insert an everlasting "Viva" in front of it. On what would have been the King's 88th birthday, here's a list of his favorite places to hold court in Sin City. Though Elvis' spirit never left these buildings, most have since left us. But not all.
The Westgate
3000 Paradise Road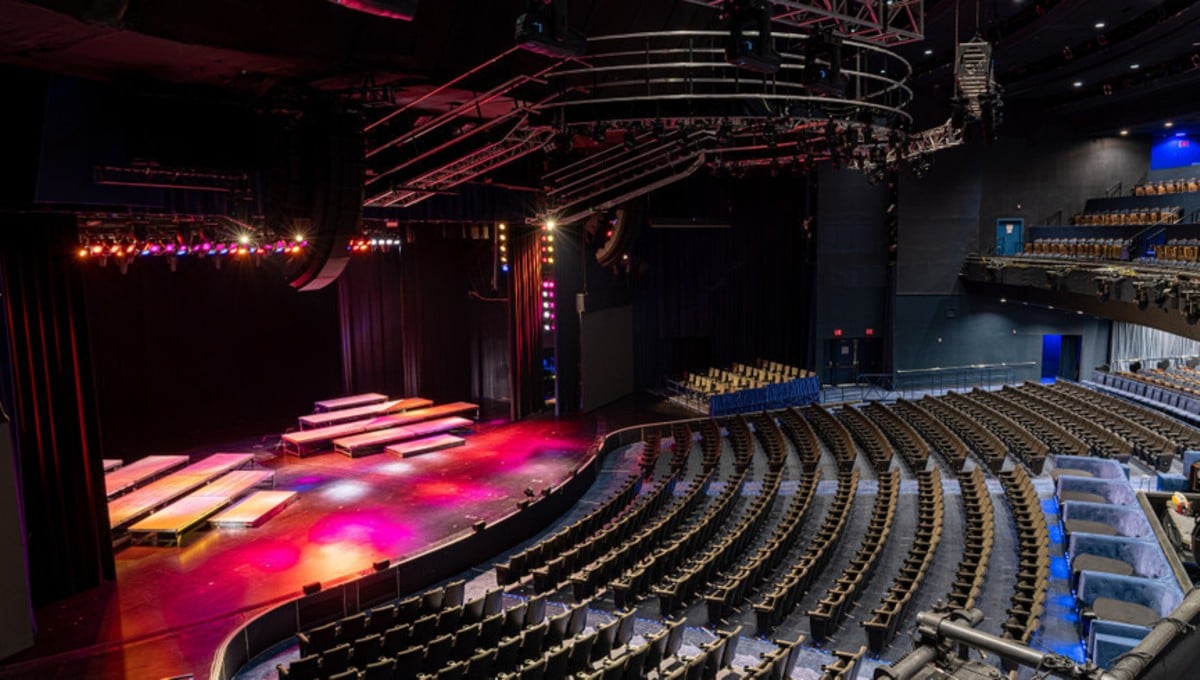 On July 31, 1969, Elvis kicked off a seven-year residency at the International Hotel, which in 1971 became the Las Vegas Hilton and is now the Westgate. Elvis performed 636 consecutive sellout concerts, two per night, on a showroom stage that still exists.
Elvis earned $125,000 a week – back when tickets started at $15 – and set Vegas attendance records including the consecutive sellout performances (58).
During his Las Vegas concerts, Elvis lived in the 30th floor Imperial Suite, a 5,000 square-foot spread where he usually retired with the night's VIP guests after his midnight performances. (Regulars included Tom Jones and actors Jack Lord and Lee Majors.) It was here that Elvis indulged his peculiarly dangerous habit of shooting defenseless objects – including TVs, chandeliers and light switches.
A bloated shell of his former self, Elvis faced his final curtain at the Hilton on Dec. 12, 1976, eight months before dying at Graceland.
The Imperial Suite was demolished in 1995 to create three VIP sky villas. In 2012, the hotel became the Las Vegas Hotel and then, in 2014, the Westgate. A statue commemorates the hotel's Elvis association in the lobby.
The Sahara
2535 Las Vegas Blvd. South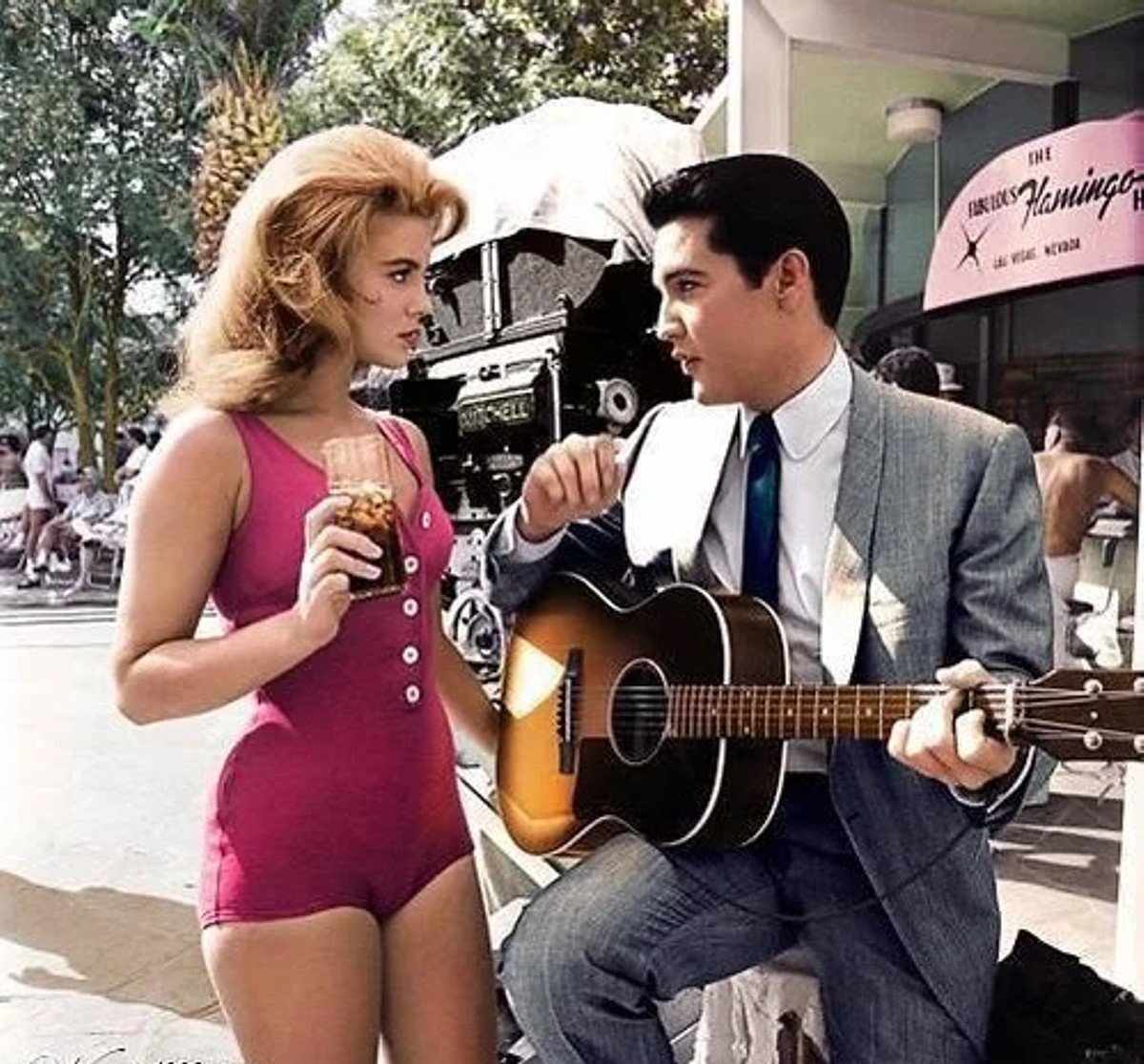 It was also here (in room 2542, the Presidential Suite) that Elvis loved the film's co-star, Ann-Margret, tender. (Neither Elvis nor Ann-Margret ever publicly commented on their relationship.)
Unfortunately, the entire resort was stripped to its bones during its 2014 transformation to the SLS, an ill-fated boutique hotel experiment that lasted only five years.
Piero's Italian Cuisine
355 Convention Center Drive
The former Villa D'Este was the only Vegas restaurant Elvis patronized during his seven-year International/Hilton run. In the '70s, the Italian eatery was owned by chef Joe Pignatello, personal Las Vegas-based chef for Frank Sinatra and good friend to reputed mobster Sam Giancana.
Usually, Elvis would have Pignatello up to the Imperial Suite to prepare steak and mashed potatoes. Occasionally, Elvis and his entourage would dine out, occupying the private dining room on top of Piero's.
The Flamingo
3555 Las Vegas Blvd. South
"Viva Las Vegas" opens at a crap table here, where Elvis' character wins enough money to enter the Las Vegas Grand Prix. Later, at the pool, he serenades Ann-Margret's character with "The Lady Loves Me" before she pushes him off the diving board. (His winnings go, quite literally, down the drain.)
Today's Flamingo is not the one built by Bugsy Siegel, however. The last remnants of the original were demolished in 1994.
The Frontier (former site)
3120 Las Vegas Blvd. South

Elvis made his Vegas debut in the Venus Room here, over two weeks in April 1956. Called "the atomic powered singer" in advertisements, the 21-year-old was third-billed to orchestra leader Freddy Martin and Borscht-belt comic Shecky Greene.
By most accounts, Elvis bombed. The square Vegas crowds of the time didn't know what hit them.
Recordings have surfaced, apparently from closing night, in which Elvis is heard telling the crowd, "We've had a pretty hard time … uh … had a pretty good time while we were here."
The Frontier was demolished on Nov. 13, 2007. to make room for a resort called The Plaza, which never opened. In 2017, the land was purchased by Wynn Resorts for $336, but is still vacant.
The Aladdin (former site)
3667 Las Vegas Blvd. South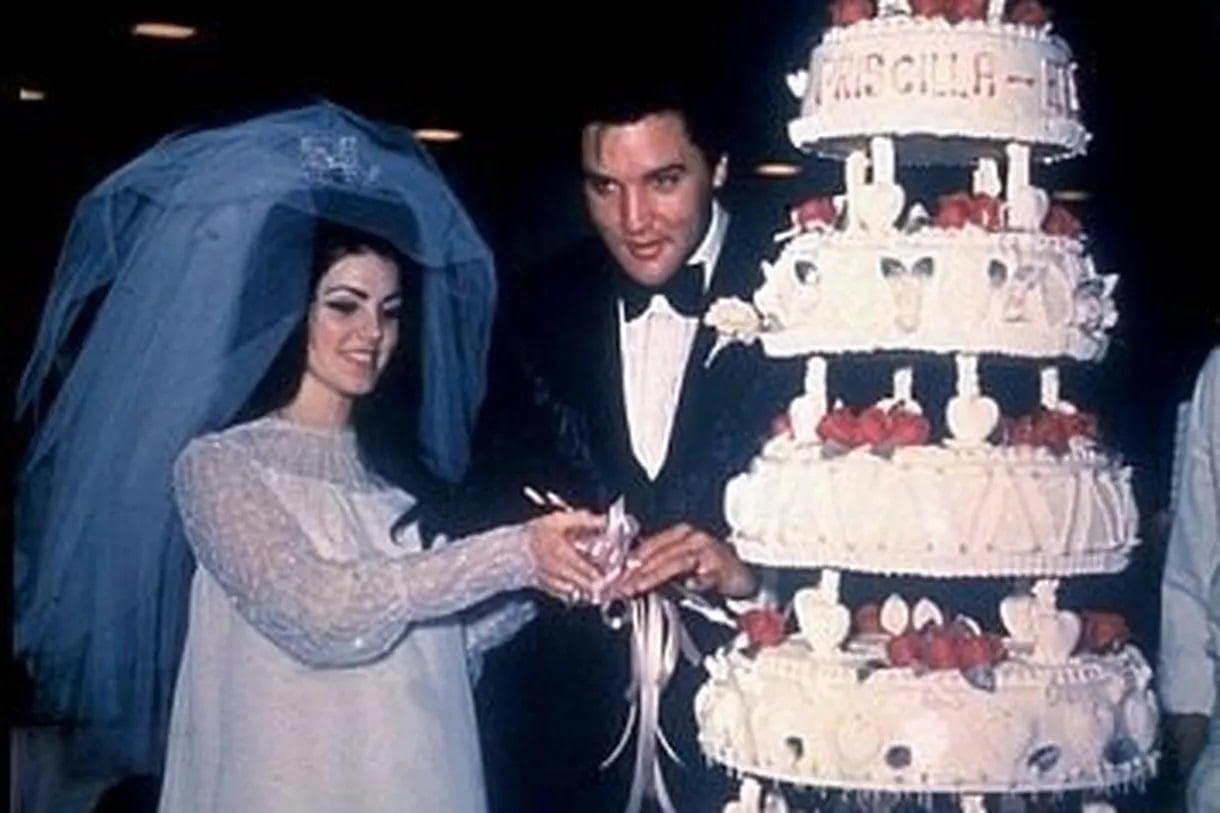 At 9:40 a.m. on May 1, 1967, 32-year-old Elvis Aaron Presley married 21-year-old Priscilla Anne Beaulieu in the second-floor suite of Aladdin Hotel owner Milton Prell.
Originally, they were to wed at Elvis' Palm Springs pad. But when unruly reporters began gathering there, an 11th-hour plan was hatched to thwart them.
Elvis and Priscilla boarded Frank Sinatra's Lear jet at 2:30 a.m. and obtained a marriage license an hour later from the Clark County Clerk's Office. Elvis's manager Colonel Tom Parker asked Prell, his close friend and Palm Springs neighbor, to plan the wedding.
The private ceremony – performed by Nevada Supreme Court Justice David Zenoff – lasted 10 minutes, the marriage six years. Following a press conference arranged for selected (friendly) reporters, the newlyweds returned to Palm Springs.
The hotel was imploded in 1998. A larger Aladdin opened on the site in 2000. That resort has been known as Planet Hollywood since 2007.
Landmark Drugs (former site)
252 Convention Center Drive
The pharmacy at the Landmark Hotel provided an unhealthy portion of the prescription narcotics that eventually did Elvis in.
Elvis dropped more than half a million dollars here, according to the 2006 book Las Vegas Babylon by Jeff Burbank. He would have a local doctor fill out a prescription, then go down and pick it up. When Elvis was at the Hilton, the drugs were walked across the street to Elvis' suite. But even when he wasn't, the Landmark would send them to Graceland or wherever Elvis was.
Mostly the packages contained Valium and a powerful pain reliever called Dilaudid, which Elvis injected himself with in liquid form. (The Landmark also provided syringes.)
The Landmark Hotel was imploded in Nov. 7, 1995. Elvis imploded on Aug. 16, 1977.
Little Church of the West
4617 Las Vegas Blvd. South
Elvis married Ann-Margret here, at least for the "Viva Las Vegas" cameras. Moved three times since, the wooden chapel then stood where it was originally built in 1942: on the grounds of the Frontier.
Harry Reid International Airport
5757 Wayne Newton Blvd.
Elvis preferred driving to Vegas from either Graceland or his houses in Beverly Hills. He didn't like flying. But when he went back to touring, there was no time for driving.
Beginning in 1969, Elvis always began his Vegas sojourns at then McCarran Airport's exclusive Hughes Flights Services terminal for private planes, from which a limo would whisk him to the International. (Built in 1948, this was McCarran's original terminal.)
In 1975 and 1976, the private plane Elvis disembarked was the Lisa Marie. Named after the King's seven-year-old daughter, the four-engine Convair 880 was purchased from Delta Airlines for $250,000 and tricked out for three times as much. (Even the bathroom fixtures were gold-plated — down to the soap dishes).
Since Elvis' Vegas stays were extended, the Lisa Marie – now on permanent display across the street from Graceland – was always flown back to its Memphis hangar to avoid McCarran's rental fees (perhaps the only money-saving activity Elvis ever engaged in while here).
The Howard Hughes Terminal was razed in 1995 to build the current Signature Terminal.
The post The Buildings Elvis Presley Left in Las Vegas appeared first on Casino.org.