WNBA Suspends Las Vegas Aces Coach For Bullying Pregnant Player
The WNBA suspended Las Vegas Aces head coach Becky Hammon on Tuesday for two games without pay, after an investigation into allegations that she bullied former Aces forward Dearica Hamby for being pregnant.
The league also stripped the team of its 2025 first round draft pick — it doesn't have a 2024 draft pick due to a trade – because of impermissible player benefits offered to Hamby during negotiations for her contract extension in 2022.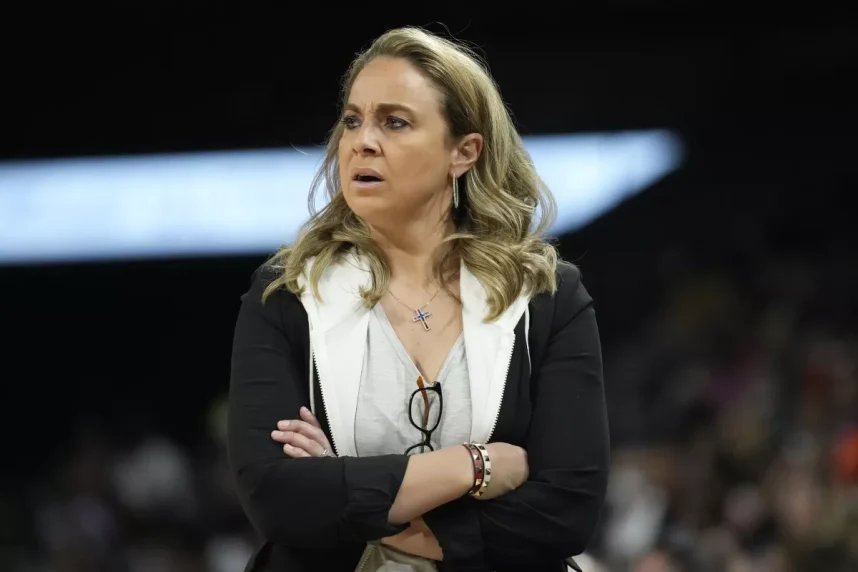 After she was traded to the LA Sparks on Jan. 21, Hamby alleged that Hammon had made disparaging comments about her second pregnancy.
"Being traded is a part of the business," Hamby posted on Instagram. "Being lied to, bullied, manipulated, and discriminated against is not. I have had my character and my work ethic attacked. I was promised things to entice me to sign my extension that were not followed through on… The unprofessional and unethical way that I have been treated has been traumatizing."
Personal Foul
The WNBA issued its ruling after a months-long investigation into the allegations — during which it said it interviewed 33 people and reviewed texts, emails, and other documents.
"The Aces failed to adhere to league rules and regulations and have been disciplined accordingly," WNBA Commissioner Cathy Engelbert said in a statement, adding the WNBA is also "disheartened by the violation of our respect in the workplace" policy, which it stated "was related to comments made by Hammon to Hamby in connection with Hamby's recent pregnancy."
Hammon's suspension means she'll miss the season-opener facing the Storm on May 20 and what would have been an interesting game against Hamby's new team, the Sparks, on May 25. She'll return for the Aces' home-opener on May 27, where they'll receive their 2022 championship rings.
Mixed Reaction
The WNBA Players Association said the league had an opportunity "to send a clear message" but that its decision "misses the mark."
"Where in this decision does this team or any other team across the league learn the lesson that respect in the workplace is the highest standard and a player's dignity cannot be manipulated?" the WNBAPA asked in a statement. "While taking away a future draft pick is significant and has never been done in the league's history, it penalizes a future player by removing an opportunity to compete for a job."
The Aces issued their own statement, saying that they are "deeply disappointed" in the disciplinary actions from the WNBA.
"The WNBA's determinations about Becky Hammon are inconsistent with what we know and love about her," the Aces said. "Becky is a caring human being who forges close personal relationship with her players. We stand by Coach Hammon as she continues to lead the Las Vegas Aces."
The post WNBA Suspends Las Vegas Aces Coach For Bullying Pregnant Player appeared first on Casino.org.