World's Most Expensive Skydive is Now Over Las Vegas Strip at Night
The fall won't kill you, but the credit card bill might when you get home. A new attraction, Skydive the Strip: After Sunset, is advertising excursions for $30K a pop starting in late September.
That makes it the world's most expensive skydiving experience, surpassing Everest Skydive Nepal by around $8K.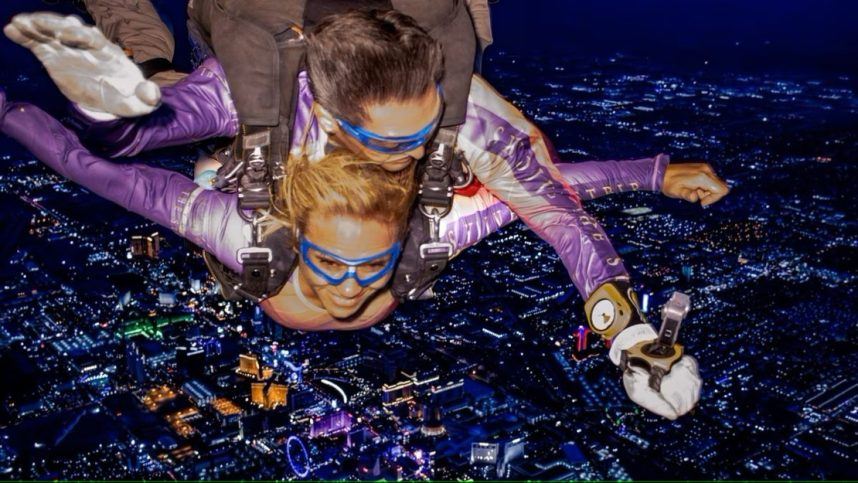 And the company claims it already has takers for its "extremely limited availability" of only 100 reservations per year.
Skydive the Strip: After Sunset doesn't emphasize the high price tag in its marketing materials, however. It prefers being known as the "world's first and only authorized company to offer tandem skydiving after sunset," according to a press release.
Though Casino.org could not verify this claim conclusively, it's probably true. Tandem jumps for first-time jumpers are never advertised for after sunset, due to the elevated risk caused by ground targets not being illuminated.
However, if there's any ground in the world sufficiently illuminated at night, it's the Las Vegas Strip.
According to the release, skydivers will have a private helicopter pick them up directly off the fairway of Las Vegas Country Club, where they will also land.
Included in the price is limousine transportation from anywhere in Las Vegas to the Las Vegas Country Club. So there's at least $120 of the $30K right there.
As with all tandem jumps, no prior skydiving background is required — just a brief training/safety class — since your tandem jumper will handle all important parachuting duties.
The jumps will all occur on Monday evenings. For more information, visit SkydivetheStrip.com.
The post World's Most Expensive Skydive is Now Over Las Vegas Strip at Night appeared first on Casino.org.